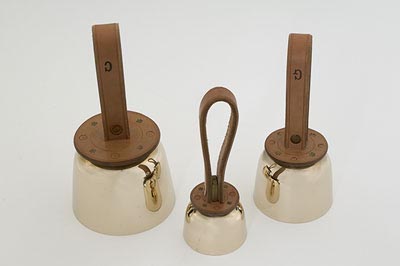 Bells of Whitechapel Ltd Cup Bells® are often known as medieval cup bells as they resemble the bells depicted in medieval works of art.
Each bell is tuned for its strike note only and not harmonically with all cutting and polished being undertaken on the outside of the bells. This gives a beautifully clear and haunting tone.
The bells have no inside clapper mechanism and are rung using an appropriately sized handbell mallet .
Sets of Cup Bells are often suspended from racks to allow them to be played by an individual.
Cup bells are available as individual notes ranging from 22C – 1C or as diatonic or chromatic sets within the 3 octave range.
Please contact us to discuss your requirements
Tel: 020 8462 9419
Email: shop@bellsofwhitechapel.london
Address
The Beechwood Centre
40 Lower Gravel Road, Bromley, Kent, BR2 8GP